Peer Observation of Teaching
Peer Observation of Teaching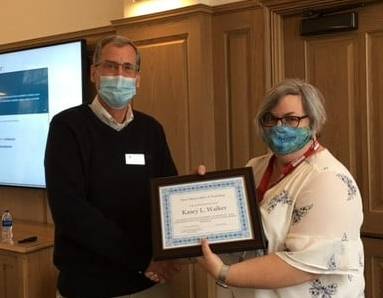 Get certified as a peer observer
by completing a two hour training course
and doing two observations.
Our Goal
Our goal is to train peer observers to improve teaching, document effectiveness, and create a community of practice.
Schedule a Peer Observer
These faculty members have completed the peer observation training and are willing to do scheduled peer observations. You should contact them directly to ask whether they have openings to do a peer observation. Since they are observing your teaching and not evaluating course content, it is not necessary to pick an observer from your area of expertise.
Carole Shook, Information Systems, CShook@walton.uark.edu
Mindy Bradley, Sociology and Criminology, mwbradl@uark.edu
Deb Korth, Student Success and Math, dkorth@uark.edu
Heather Walker, Chemical Engineering, hlw@uark.edu
Kasey Walker, Communication, klwalker@uark.edu
Carl Smith, Architecture, cas002@uark.edu
Peggy Lee, School of Nursing, pblee@uark.edu
Manuel Rossetti, Department of Industrial Engineering, rossetti@uark.edu
Samantha Robinson, Data Science, sewrob@uark.edu
Faith Lessner, Biological Sciences flessner@uark.edu
Margaret Butcher, Communication mbutcher@uark.edu
Don Johnson, Agricultural Education, Communications, and Technology, dmjohnso@uark.edu
---
Why Peer Observation?
Faculty discontent with Student Evaluation of Teaching
Faculty should provide additional items (beyond student evaluations) to document teaching. AP 1405.11 (F.1. Criteria for Faculty Performance)
Improve teaching by:

Engaging in non-judgmental, constructive dialogue between peers
Engaging in self and mutual reflection about teaching practices
Exposure to different teaching perspectives and practices

Document teaching effectiveness through:

Classroom observation by respected peer(s)
Written observation report

Create a voluntary Community of Practice by:

Breaking down disciplinary silos
Making teaching a "public" practice
Providing opportunities for conversations about teaching and learning
Providing a community of peer observers
---
Features of Peer Observation
Voluntary

Confidential (The person observed is given the report and they can decide how to use the information)
Peer-to-Peer
Cooperative, not evaluative
Formative, not summative
---
Our Peer Observation Model
Step One: Pre-Observation Meeting
Informal/In-person
Develop rapport
Provide mutual understanding of peer observation process
Learn about course and students
Discuss instructor's specific goals for the peer observation
Schedule date/time/location
Determine topic and instructor goals for class session
Step Two: Classroom Observation
Observer arrives early / sit in back of classroom
Complete "Peer Observation of Teaching" Timeline form
Observer pays special attention to:

Instructor identified goals
Students engagement and interaction
Understanding
Instructor clarity
Rapport/Respect
Management/Support of learning
Step Three: Post Observation Discussion and Report
Observer prepares observation summary for discussion

Meets with instructor to discuss observation summary
Emphasizes positive points
Offer non-judgmental suggestions

"What would happen if . . . ?

Incorporates feedback into written summary
Writes/delivers written summary document

Get Trained
Sign up to let us know that you are interested in being trained as a peer observer.
Watch for upcoming programs on peer observation of teaching.
We will have one per semester.